Mrs. Nary (Preschool 4, Lambs)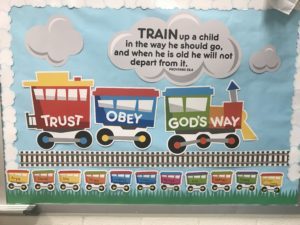 November 23, 2020
Dear Preschool Families,
We have a very short week this week. Please note that Wednesday is a half day with dismissal for the preschool at 11:30. Wednesday is also our Turkey Trot. It is not too late to donate for this fundraiser. Our group will be outside around 8:45 to approximately 9:30. Of course this will change our online schedule. I will sign on as usual at 8:30 and we will work from there by adjusting when we do things. Thank you to all of you who have been sending coats with the children. We do go outside every day. The kids have really enjoyed watching our frisbees fly in the wind we have been having.
Week of November 23-27
Monday
Religion- God judges us on love. Sing "Gather Together." Read the lion and the mouse fable. Talk about how both animals showed love. Color the picture.
Math- Review number 6. Do the trace and color page.
Reading- Review story again. Listen to the CD. Review the letters G and H. Do G and H tracing pages.
Social Studies- Read "My First Thanksgiving." Make handprint turkey. Trace around your hand. Draw feet and a beak on your turkey. Draw a red wattle on your turkey's face. Decorate your fingers like feathers.
Tuesday
Religion- Sing "Two Little Ears." Listen to the Gospel story. Do pages 1 and 2 of your Seeds flyer.
Math- Do the numbers review page.
Reading- Listen to the story. Do blackline masters pages 17 and 18. Listen for Mrs. Nary's directions.
Social Studies- Read "Turkey Trouble." Make paper turkey. Glue your beak and wattle (the red thing) on your turkey's face. Draw eyes on your turkey. Glue your orange feet at the bottom of your body. Pick out the feathers you want to use and glue them to the back of your turkey body. Make sure you can see the pretty side of your feathers from the front of your turkey.
Wednesday
Religion- Sing "The Seed Song." Talk about sharing and giving to others. Talk about pages 3 and 4 of Seeds flyer. Do page 16 in your Religion workbook.
Reading- Review story do comprehension activity using your individual storybook. Follow the directions on the CD.
Thank you for your support. Have a wonderful Thanksgiving. School will resume on Tuesday, December 1.
Kathy Nary
Prek4B Teacher
Here are some good websites that you can try out at home.
Catholicicing.com
Catholicmom.com
drjean.org
Funbrainjr. com
Nickjr. com
PBSkids.com
Pinterest.com
Preschooleducation.com
Starfall.com
Twistynoodle.com
finditva.com
vooks.com