Mrs. Nary (Preschool 3, Lambs)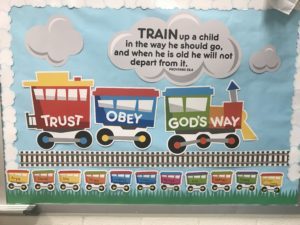 Grab and Go reminder. Please come and pick up your packet tomorrow between 9 and 11 am in front of the Senior building. 
Zoom meeting Wednesday at 9;30 am. We will send you a link to join us.
March 27, 2020
Dear Preschool Families,
How is everyone doing at home? I am missing all of my friends. It was great to see those of you who tuned in to Mrs. Fernandez's group prayer. It really picked me up to see Ethan Tekle and his family. If you get a chance tune in the next time Mrs. Fernandez sends out the email invitation.
I have prepared some more work for you to help keep you busy and to keep the learning going. In the coming weeks we will be doing more of that and will also be doing some online meetings. We will let you know when we get that figured out.
This week the lessons focus on the letter V, so you are to color the volcano and decorate it with the dinosaur stickers. There is also a dinosaur for you to make the face on like the unicorn last week. Also make the volcano book. The directions are on it. Don't forget to color. The train is for you to practice your cutting skills. You cut the cars apart on the dark black line. You can glue it to another piece of paper or just arrange it however you want. Of course, on the vegetable page you color the vegetables and trace the letter v. With the maze you draw a line through the maze to help the dog get to the soccer ball.
Lastly, we have to remember that we are still in the season of Lent even though we cannot go to church. This picture shows the three things we are to do during lent; pray more, do things that help us get closer to God and help other people more. Please color the picture nicely. When you finish one of your projects you can take a picture of you with it and email it to me at Kathy.nary@stmikes22003.org. I am looking forward to hearing from you. Until then play outside when you can and keep praying for each other.
Love,
Kathy Nary
Prek3A Teacher
Here are some good websites that you can try out at home.
Catholicicing.com
Catholicmom.com
drjean.org
Funbrainjr. com
Nickjr. com
PBSkids.com
Pinterest.com
Preschooleducation.com
Starfall.com
Twistynoodle.com
finditva.com
vooks.com
Parents are welcome to send in a birthday treat for your child's class when it is their birthday but please keep it simple. A cookie or a small cupcake is perfect for them. You may also bring in boxed juice if you would like. We welcome party plates and napkins as well. That makes clean up easier for us. Please do not bring in a full sized cake or anything that is extra messy. We only have 10 to 15 minutes for snack time so we are not equipped to do a full fledged party. Candles are not allowed. Please remember the no nuts rule.  Thank you for your cooperation in this matter.