Mrs. Nary (Preschool 3)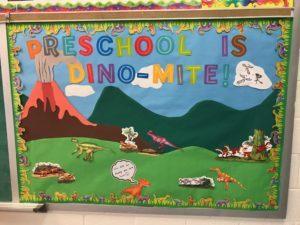 May 28, 2018
Dear Preschool Families,
I hope everyone had a nice weekend. We learned a lot about plants and gardens and farms last week. Hopefully our seeds we planted last week have sprouted and we will be bringing home some bean plants this week. We have enjoyed watching them grow.
This week we will read some Eric Carle stories and do some related projects and we will have some lessons on different types of transportation. In Math we will talk about the parts of a whole and do some related activities on the Activboard. In Religion we will continue learning about Old Testament Heroes. This week we will learn about Jonah and the Whale and David and Goliath.
This is our last week in Prek3. We are practicing our songs so that we can do a nice job for you on Thursday for the end of the school year program. Our show is at 10:30 in the All Purpose Room of the Junior School. Please enter the school at the doors closest to the playground where you pick up your child at the end of the day. Please bring a treat to share. Keep in mind that although our party is over at 11:30 the full day students will still have school in the afternoon. If you want to take your child home at 11:30 you, of course, have the option to do so. Also, please do not be late to the program or you will miss it. It is very short and you don't want to be disappointed . Also we will have school on Friday and that is our last day of school. I am planning a relaxing day to say goodbye to our friends for the summer. Thank you for all you have done to make our school year successful.
Kathy Nary
Prek3 Teacher
Just One Small Voice
Join us on Thursday, May 31 at 10:30 in the All Purpose Room of the Junior School for the closing program of Mrs. Nary's Preschool 3 class. Let us show you what one small voice can do!
Please indicate on the form below your name and how many will attend our program. We need help providing snacks for the program so please indicate if you can help by bringing juice, fruit or some other yummy treat. We will also need help setting up (you will need to arrive a little early) or cleaning up. Thank you in advance for your help.
Name_____________________________________________
Donation for the feast________________________________
I can help set up_____________________________________
I can help clean up___________________________________
I am unable to attend_________________________________