Mrs. Nary (Preschool 3)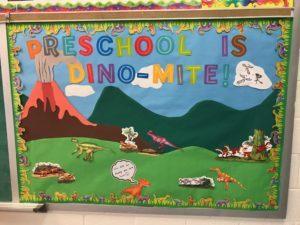 April 23, 2018
Dear Preschool Families,
Last week we had fun learning about caterpillars and butterflies. We did many projects and learned how their life changes during their different stages.
This week we will finish up the alphabet with the letter Z. We will have a story called "Zoom Zoom off to the Moon." In Science we will study about space and astronauts and have several related projects. In Religion we will study faith and trust. We will spend a couple of days studying about Noah and the Ark which Mrs. Burke, the music teacher, introduced them to last week. We will also learn how Jesus calmed the storm. In Math class we will continue with our study of sequencing and what comes first, next and last.
On Tuesday and Wednesday there will be a substitute in the classroom as I will be out those two days. The children met Mrs. G when she substituted for Mrs. Jennison so their schedule should not be too disrupted. Don't forget about our Silent Auction on Saturday. It should be a lot of fun and hopefully we will raise money for the school. I look forward to seeing all the parents there. We still have a few people who have not advised the office of their plans for next year for their child. Please do that as soon as possible. Mr. Cinalli and Mrs. Jennison have begun looking at our staffing requirements for the next school year and they need input from all our current preschool families. We are having tours of our classes almost on a daily basis now. Thank you for your support.
Kathy Nary
Prek3 Teacher