Mrs. Nary (Preschool 3, Lambs)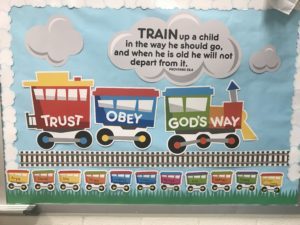 November 18, 2019
Dear Preschool Families,
We had a great time last week doing our science activities and the activities we did to learn about Native Americans. Our necklaces turned out nice and we will be painting our pinch pots this week. We had fun with our stories about the three little kittens and the three pigs.
This week we will look at the letter L and read stories about lunch and lunch boxes. In Religion we will talk about Thanksgiving and learn about our guardian angels. In Math class we will begin work on the number 7 and review the number 6. This will be a big science week for us. We will finish up our unit on numbers with a lab on measuring water. Then we will start our unit on Time with some fun labs on chemical reactions. I predict some large messes in the classroom this week.
Thank you for your attention to making sure your child is dressed properly for the weather. The children really love playing outside and we hate to miss it when the weather is bad. Please be careful when dressing your child in layers. We have had several accidents because the children could not get all their layers down in time to go to the bathroom. The classrooms and the gym are quite warm so we really don't need two pairs of pants on the children. Their sweatpants, yellow shirt and sweatshirt is enough for them. Also, keep in mind that we need the children to wear tennis shoes to school. If they are wearing boots please put their tennis shoes in their backpack.
Thank you to everyone who has donated to our food drive and those of you who haven't still have time to do so. Even one can or box will be appreciated and your child will feel good about putting their can in our box. Also, be sure to get your poinsettias. This is the last week of the sale. Thank you for your support.
Kathy Nary
PreK 3A Teacher
Parents are welcome to send in a birthday treat for your child's class when it is their birthday but please keep it simple. A cookie or a small cupcake is perfect for them. You may also bring in boxed juice if you would like. We welcome party plates and napkins as well. That makes clean up easier for us. Please do not bring in a full sized cake or anything that is extra messy. We only have 10 to 15 minutes for snack time so we are not equipped to do a full fledged party. Candles are not allowed. Please remember the no nuts rule.  Thank you for your cooperation in this matter.