Mrs. Nary (Preschool 3, Lambs)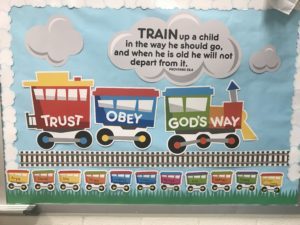 October 14, 2019
Dear Preschool Families,
I hope everyone had a nice long weekend. It was nice to get a short break especially as the weather was so nice. Last week we had a great time learning about fire fighters and fire safety. The visit from the fire department was awesome!  We got to see several different trucks and actually climb into the firetruck and the ambulance. The children had a wonderful time.
This week our story is "The Gingerbread Man." We will look at the letter G and continue with the number 4 in Math class. In Religion we will talk about how important it is to say thank you to God and each other. In Science class we will begin our Lab Learner unit on numbers.
Please keep an eye on the weather to determine if your child will need a jacket at recess time. We go outside twice a day if the weather is good. Just a calendar reminder, next Friday, October 25 there will be no school for a teacher professional development day. Thank you for all your support.
Kathy Nary
Prek3A teacher
Parents are welcome to send in a birthday treat for your child's class when it is their birthday but please keep it simple. A cookie or a small cupcake is perfect for them. You may also bring in boxed juice if you would like. We welcome party plates and napkins as well. That makes clean up easier for us. Please do not bring in a full sized cake or anything that is extra messy. We only have 10 to 15 minutes for snack time so we are not equipped to do a full fledged party. Candles are not allowed. Please remember the no nuts rule.  Thank you for your cooperation in this matter.