Mrs. Nary (Preschool 3, Lambs)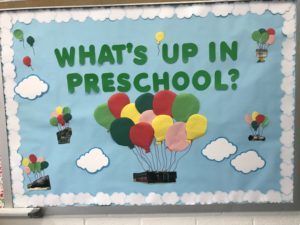 January 14, 2019
Dear Preschool Families,
I hope everyone enjoyed their snow day. It was nice to finally see some significant snow. We haven't had that in a few years. Last week we enjoyed our story about the Emperor and the Nightingale and we had fun doing our bird projects. We will be bringing home our bird that we made as soon as we get our nests done.
This week our story will be "The Emperor's New Clothes." The children love this story because the emperor is so silly. We will continue with the letter N and in Math class we will finish up with the number 8. In Religion we will learn about Baptism and how it makes us a part of God's family. In Science class we will do some Lab Learner lessons about weight and measuring.
Please keep an eye on the weather and remember that St. Michael School follows Fairfax County Schools for all weather related closings and delays. It looks like we may be facing some additional bad weather this weekend. Also, next Monday, January 21 we will have a school holiday to celebrate Martin Luther King, Jr. day. Thank you for all your support.
Kathy Nary
Prek3A Teacher
Parents are welcome to bring in a special snack for their child's birthday but please keep it simple. A cookie or a small cupcake is perfect for them. You may also bring in boxed juice if you would like. We welcome party plates and napkins as well. That makes clean up easier for us. Please do not bring in a full sized cake or anything that is extra messy. We only have 10 to 15 minutes for snack time so we are not equipped to do a full fledged party. Candles are not allowed. Thank you for your cooperation in this matter.