Mrs. Nary (Preschool 4, Lambs)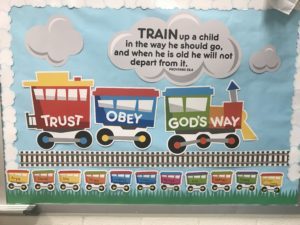 September 16, 2020
Dear Preschool Families,
We have been having a good week so far. We are enjoying doing our blueberry activities. Today the in person kids had fun with finger paint, although some were a little hesitant to get their hands so messy. Ruby is not worried about that. Two days in a row we have watched her paint her hands to do her art.  Tomorrow the in person full day kids will have a berry tasting to see which is our favorite. We have been enjoying our outside time because the weather has been so nice. We do have a new rule in our class that if you get something stuck in a tree you are fired. Mrs. Torres has been the worst offender so far but some of the fellas are getting really good at throwing the frisbee. This week we got to see where Abhinav gets some of his snacks. He has a garden on his balcony! Dani has been showing us some of his cool creations he makes with recycled materials. Everyone is finding fun things to do both at home and at school.
Below please find the plan for next week. Tomorrow is packet pick up day for our online students so I hope everyone will be able to make it by 5:00 for pick up. For those in person students this Friday is a half day with dismissal at 11:30.
Week of September 21
Monday
Religion- God's love is Generous. Sing "Seed Song." Listen to the story of Grandpa's welcome chair. On page 2 of Seeds flyer trace the dotted lines around Grandpa's chair. Project- choose a chair to use. Glue it to your white paper. Draw your family around the chair.
Math- Review numbers 0 and 1. Introduce #2. Do number 2 coloring page.
Reading-Review "Little Red Riding Hood." Review letters A and B. Do A and B worksheets.
Science-Read "National Geographic Bats Book." Make bat book. Color the pictures, cut on solid black lines. Put book in order by numbers. Staple into your black cover. Write Bats on the cover and draw a bat.
Tuesday
Religion- Sing "Two Little Ears." Read Gospel story about the workers in the vineyard. Color the picture.
Math- Review numbers 0-2. Do number 2 trace and color page. Look at number 2 on the Activepanel.
Reading- Read "The Sweet Little Wolf." Do Blackline Masters pages 3 and 4. Listen for Mrs. Nary's instructions.
Science- Read "Bo the Bat." Make black foam finger puppet. Cut out bat on silver lines. Use the silver sharpie to add a face to your bat and lines on his wings. The two holes are for your fingers to fly the bat.
Wednesday
Religion- Review the sign of the cross and the Holy Trinity. Do Religion Workbook page 4. Color the pictures.
Math- Do number 2 trace and color page.
Reading- Listen to the CD to do the comprehension activity with your "Little
Red Riding Hood" storybook. Use your crayon to mark where the CD tells you to.
Science-Read "Bats at the Beach." Make paper bag bat puppet. Glue the ears, eyes and nose to the bottom part of the bag. Glue the yellow fangs just under the flap that makes the bottom of the bag. Glue orange feet at the bottom, front opening of the bag. Glue the tail to the back of the bag. Put glue on the wings where I have written the word glue and then attach to the back of the bag. Online students have a little picture of the completed bat to go by.
Thursday
Religion- Jesus welcomes me. Color picture of Jesus on page 3 of the flyer.
Handwriting- Trace over the grey lines on the paper to write your name. Finish writing your name where you see just the first letter of your name. Use your best handwriting.
Reading- Listen to story again. Do character puzzles. Piece together your puzzle in the rectangle on the yellow paper. Glue your pieces in place when you figure out how the go. Which character do you have?
Science-Read "Stellaluna." Color the picture.
Friday
Religion- Saint of the week. Listen to the story of Padre Pio. Color his picture
Math- Trace and write your numbers 0-2. Trace when you see a number and write the number on the line when you see the line.
Reading- Read "Little Red Cowboy Hat." Use your white paper and crayons to draw a picture following Mrs. Nary's instructions.
Thank you for being so patient with me as I get use to the hybrid class of in person and online instruction. I am learning a lot but if you have concerns or questions please let me know. Thank you for your support.
Kathy Nary
Prek4B Teacher
Here are some good websites that you can try out at home.
Catholicicing.com
Catholicmom.com
drjean.org
Funbrainjr. com
Nickjr. com
PBSkids.com
Pinterest.com
Preschooleducation.com
Starfall.com
Twistynoodle.com
finditva.com
vooks.com