Mrs. Nary (Preschool 3, Lambs)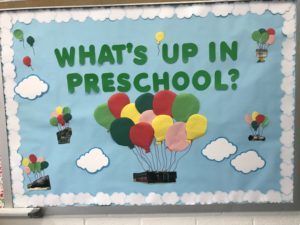 May 27, 2019
Dear Preschool Families,
Wow! This is our last week of school! I can't believe it! I have enjoyed watching your children grow and learn so much. All of them have made such great progress this year and I know that will continue with our four year old program. If you have not already signed up please do so as soon as possible because we are truly filling up our classes.
Last week we had so much fun at our Teddy Bear Picnic. It was the best day ever! Thank you to Mrs. W for helping us with that. We also enjoyed watching the butterflies leave with Mrs. Camarca's class and seeing some of the tadpoles begin to turn in to frogs.
This week we will finish up our alphabet review. In Math we will learn about parts of a whole and in Religion we will learn how God gives us feelings and what to do with those.
On Wednesday we will have our end of the year program and party at 10:30 in the All Purpose Room of the Junior School. It is the same place we had our Christmas program. That will run until about 11:30. After that you may take your child with you if you wish or we will continue with our regular preschool day with dismissal at 3:00. There is school on Thursday and Friday. Friday will be an 11:15 dismissal for the preschool and an 11:30 dismissal for the rest of the school. Thank you for all the support you have given Mrs. Torres and myself through the year. We hope to see all of you next year.
Kathy Nary
Prek3A Teacher
Parents are welcome to send in a birthday treat for your child's class when it is their
birthday but please keep it simple. A cookie or a small cupcake is perfect for them. You may also bring in boxed juice if you would like. We welcome party plates and napkins as well. That makes clean up easier for us. Please do not bring in a full sized cake or anything that is extra messy. We only have 10 to 15 minutes for snack time so we are not equipped to do a full fledged party. Candles are not allowed. Thank you for your cooperation in this matter.