Mrs. Nary (Preschool 3, Lambs)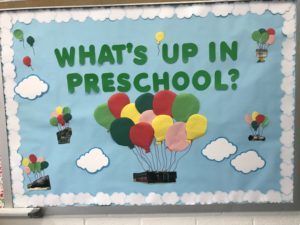 September 24, 2018
Dear Preschool Families,
Last week we had fun learning about cowboys and cars for the letter C. We drew ourselves as cowboys and did a fun project with cars. We finished up our lessons on kindness in Religion although this will continue to be a focus for us as well as for the whole school.
This week we will start our Religion program. It is called "Seeds" and is geared specifically toward preschoolers. It is also liturgically based so the children will be learning some of the same things that will be presented to us in weekly mass. This week our lesson centers around becoming like children to learn about Jesus. In Reading we will read about dogs and learn about the letter D. In Math we will continue with the number 3 and begin learning about placement words. In Science we will have a lot of fun learning about dinosaurs.
This is the time of year to watch the weather for temperature. We go outside every day that it is not raining so make sure your child has a jacket if the temperature requires it. Looking ahead, Monday, October 8 there will be no school for Columbus Day. Please continue working on independence in both eating and using the restroom and make sure you include spoons and forks in your child's lunch if they need one. Also after you have picked up your child at the end of the day please exit the property using the maintenance yard and do not turn around and go back down Doyle Lane. Thank you for your support.
Kathy Nary
Prek3A Teacher