Ms. Horton (Preschool 4)
Hello Parents,
Ms. Horton's class has had a wonderful week!  We did so much learning in such a short week.
In Literacy, we continued our unit using "The Three Bears" story.  We practiced identifying and using the color blue and red as we became familiar with the prepositions "over" and "under" .  The children also began working on hearing beginning letter sounds in words.  For our letter this week, we focused on letter "Ff" and the sound it makes.  We recited a poem about "Five Fancy Frogs".  We also colored and added glitter to our F is for Flower activity sheet!
In Religion, the children did a fantastic job learning our lesson "Love Others as God Loves You".  We read the scripture story "The Strander Who Turned into a Friend". Then we learned what it means to love others the way God loves us, for example helping friends in need or give water to someone who is thirsty.  The children had fun sequencing the events of the story afterwards.
In Math, we read several "Counting Up" math books, such as "How Do Dinosaurs Count to 10?" and "Ten Bugs in a Box".  Then we started making our own Counting Books!  We started with 0 and will go to ten over the next week or two.
In Social Studies, we talked about our feelings.  We focused on identifying several feelings, such as happy, sad, scared, surprised and angry.  The children learned how facial expressions can tell us how a friend is feeling when we don't share or take turns.  We also practiced making our own facial expressions!
Math Tip:  If you would like to work with your child at home, try taking your child on a trip to the grocery store.  Have him/her help you count out the number of apples or bananas you need.  Show the children the numbers on the price tag and see if they can identify any of them. 
Have a blessed weekend!
Ms. Horton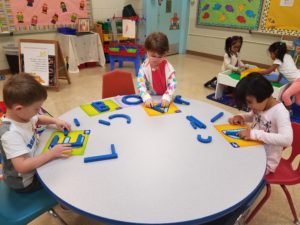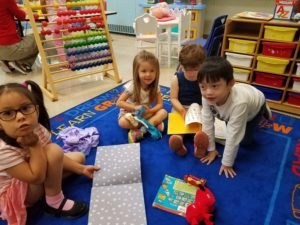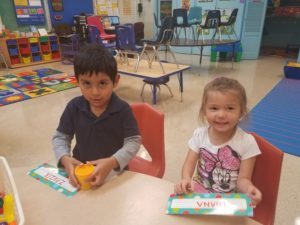 October Dates to Remember:
Weds, Oct. 11  Early Release at 11:15am
Fri., Oct. 13   Class Picture day
Thurs. Oct. 19  STEAM Night
Fri. Oct. 20   PTO Movie Night
Fri., Oct. 27   Professional Development day for teachers, NO SCHOOL
Fri., Oct. 27   Trunk or Treat
Special Schedule:
Tuesday – Art and P.E.
Wednesday – Library and Music
 Friday – Show and Share **Please send ONE item from home that is small enough to fit in their backpack, but NO electronics, please.**
If you have any questions, please contact me by email piper.horton@stmikes22003.org